Still 'Government Motors,' Recall and All
When Mary Barra appears before Congress next week, she'll face many versions of the same basic question: How do you solve a problem like General Motors? 
by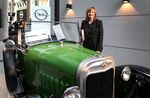 When Mary Barra appears before Congress next week, she'll face many versions of the same basic question: How do you solve a problem like General Motors? It's actually one the representatives might do well to ask themselves, as the government bailout five years ago not only gave the company permanent too-big-to-fail status, but also immunized it from defect-related liability and, more broadly, helped further entrench the worst aspects of its long-dysfunctional corporate culture.
Problems of culture are not as easy to fix as the Business/Inspirational section of a bookstore might suggest, especially for those with no experience of other cultures. And remember that Barra is not just the company's first female chief executive, she is also a GM "lifer." Fundamental insularity has been a hallmark of General Motors ever since former Chevrolet chief John DeLorean pulled back the kimono in his 1979 classic, "On A Clear Day You Can See General Motors." Criticizing his former firm's "rigid" culture, inability to look outside for new leadership, quashing of innovation and inattention to detail, DeLorean warned:
There is virtually no likelihood of outsiders taking over management of General Motors. The system stresses longevity and loyalty. And as long as the sheer size of the corporation continues to ring up acceptable profits, there will never be pressure from outside members of the board of directors to bring in fresh management blood.
In the decades since, GM has lived up to that reputation, consistently losing market share while handsomely rewarding lifelong executives. The federal bailout was supposed to change things; several of those involved have written books claiming their share of credit for GM's "turnaround." Yet what is different? No GM executive has so far admitted knowledge of anything about the 2006 ignition-switch redesign at the heart of a recall now involving 1.6 million vehicles and too many lives. (Because the part number wasn't changed in 2006, likely to conceal evidence of a defect, GM admits it doesn't even know how many switches on parts shelves across America it needs to recall.) As in all broken cultures, the smallest successes have a thousand fathers while the biggest problems are orphans.

The company's insular outlook goes to the decade-old roots of the recall scandal. Lori Queen, the vehicle line executive for the recalled Delta- and Kappa- platformed models, broke industry taboo in 2006 by strongly criticizing Consumer Reports, which had given one of the autos, the Cobalt, low ratings for quality. That same year, her husband, Jim Queen, who was GM's vice president of engineering, bragged to the industry press that he would save the company a billion dollars a year through more efficient engineering, and slashed hundreds of white-collar jobs. He also, as the New York Times put it, had a mandate from GM North America chairman and "Chief Car Guy" Bob Lutz to make the Cobalt "a world-class small car." GM's close-knit culture was convinced it simply couldn't fail. When Jim and Lori Queen both retired in 2009, the government was already committed to confirming this totally unjustified belief.
The bailout also did nothing to end GM's fraught relationships with its suppliers. Don't forget that Delphi, which made the recalled ignition switch, was spun off from General Motors' Automotive Components Group in 1999. It soon became clear it was a hotbed of accounting fraud, and in the mid-2000s, as top executives settled with the SEC, the company declared bankruptcy, dumping billions in pensions on the government's Pension Benefit Guaranty Corp and re-headquartering in the U.K.
The problems persist: Last year GM attempted to pass a range of harsh supplier terms, including passing liability to the smaller manufacturers even for recalled parts that met GM specifications. After a major brake supplier, TRW, turned down $700 million worth of GM business, the new demands were eventually rolled back. Still, it was fairly stunning a company that had been handed pre-bailout impunity by Washington was attempting to pass off future legal liability to its suppliers. Considering how crucial GM's battered partners are to its active-safety components -- brakes, steering and airbags -- turmoil in the supplier sector can have deadly results. And don't forget the bailout was sold to the public in part because it would save jobs at all those Detroit suppliers.

Lawmakers can no longer indulge in such pleasant self-delusion. Cultural dysfunction of the scale now on display at General Motors thrives on impunity, which up until 2008 derived from inherited scale. Since the bailout, the moral hazard of the government's implied backstop has made government complicit. After all, Washington's response to GM's clearly foreseeable collapse was to simply fix symptoms: crush debtholders, force union concessions, fire the CEO, pump in cash and cut it free of legal liability.
Now, five years after the government committed to these "fixes," GM is in the grips of a quality scandal that seems to have no end. Spooked into hasty action by a stumbling giant that couldn't keep accounts within a half-billion dollar margin of error and was too arrogant to even create contingency bankruptcy plans, public officials eliminated the only real solution to such terminally flawed cultures: creative destruction. Until Congress puts that option back on the table, GM is still very much Government Motors.
(Edward Niedermeyer, an auto-industry consultant and former editor of the blog The Truth About Cars, is a contributor to the Ticker. Follow him on Twitter @Tweetermeyer.)
This column does not necessarily reflect the opinion of Bloomberg View's editorial board or Bloomberg LP, its owners and investors.
Corrects job title of John DeLorean in second paragraph of article published yesterday.
To contact the author on this story:
Edward Niedermeyer at edward.niedermeyer@gmail.com
To contact the editor on this story:
Toby Harshaw at tharshaw@bloomberg.net
Before it's here, it's on the Bloomberg Terminal.
LEARN MORE