Medicare Advantage Helps Insurers, Not Seniors
Medicare Advantage was initially meant to save Medicare money, but a newly released paper says that's not so, and it's the insurance companies that benefit.
by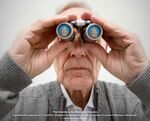 Earlier this year, an ad campaign in Washington showed an old man with binoculars, under the words "Seniors are watching." The ad warned Congress against cutting funding for Medicare Advantage, which pays private insurers to provide health benefits to more than a quarter of all Medicare enrollees.