Egyptian Dictatorship Gets a Head Start
Egypt's military ruler announced his run for the presidency right after an absurd court ruling. That's probably no accident.
by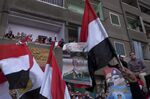 The timing of Egypt's de facto ruler Adel-Fattah al-Seesi's long-awaited announcement yesterday that he would seek election as president suggests he may be even more authoritarian than we've imagined.
Al-Seesi gave the official word two days after a court sentenced 529 defendants to death for the killing of a single police officer during a protest last summer. A different leader might have been troubled by the obvious miscarriage of justice and delayed the celebration of his candidacy. Not al-Seesi.
The military chief, whose election victory isn't really in doubt, can't offer the defense that he's managed his candidacy casually. The deliberate buildup preceding the announcement included a promotion for al-Seesi from general to field marshal, the military's highest rank. There were endorsements by the military's Supreme Council, Russian President Vladimir Putin and the grassroots Tamarod Movement, reversing its earlier opposition.
There were even winks and half-affirmations from the man himself, including an interview in which he said he knew, from a dream he'd had, that he would be president one day.
Al-Seesi could have officially announced any time in the last few months, or sometime later, given that the election date hasn't been set. Instead, the pronouncement came as government critics and rights advocates were still absorbing the news of the mass death sentences. The defendants were arrested in connection with unrest sparked by the coup al-Seesi led against Egypt's first democratically elected president.
Their trial was a sham, quite apart from the improbable mechanics of hundreds of people killing one man. It lasted less than an hour, most of the accused were not present and defense lawyers were prevented from presenting their cases. The same judge is now presiding over another mass trial, of 683 people, on charges including murder. He insisted on proceeding despite a boycott by the defendants' lawyers.
The judgment in the first case, and any similar miscarriage in the second, may be overturned on appeal. But even if that happens, the message will have been delivered -- that Egyptians risk the direst of consequences if they oppose the government, which almost certainly will continue to be controlled by al-Seesi.
This should be reason enough to put an end to U.S. Secretary of State John Kerry's proposal to release $1.5 billion in military aid to Egypt that was frozen last year. The State Department would have to certify that Egypt is making democratic progress. Then again, stranger things have happened. Even after the Monday sentencing, a U.S. spokesperson spoke of Egypt's "democratic transition" moving forward. Al-Seesi certainly has a way of attracting endorsements.
(Lisa Beyer is a Bloomberg View editorial board member. Follow her on Twitter @lisabeyer3.)

This column does not necessarily reflect the opinion of Bloomberg View's editorial board or Bloomberg LP, its owners and investors.