2016 Republican Field Is Really, Really Big
Of course, they're not all on even footing. Only a few have put together serious organizations. It's unlikely that more than half a dozen will still be running by fall 2015.
by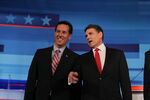 Someone asked me yesterday whether Governor Scott Walker of Wisconsin is a viable presidential candidate. Which brings up something that I've said several times, but haven't really built a post around: The emerging Republican field is chock full of plausible nominees.