What Canada's Slow Growth Tells Us
Canada beat the OECD average in economic growth after the recession. Is that about to end?
by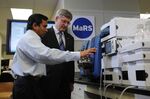 Canada's Conservative government has long made sound economic management the centerpiece of its claim to office. Now, with the country's outlook showing mixed signals and a federal election coming next year, I'm looking at ways to measure the health of the economy, and what each says about Canada's.
This installment examines gross domestic product, probably the most commonly cited gauge of economic performance. Canada's economy beat the average for developed countries in the wake of the recession -- growing in 2008, shrinking less than others in 2009 and hitting 3.4 percent growth in 2010.
But what was once a success story is starting to look like something else. The Organization for Economic Cooperation and Development forecasts that Canada's economy will grow by 2.3 percent in real terms this year. That is the same rate projected for OECD countries overall; next year, Canada's growth is forecast to slip below the OECD average.
So while the Conservatives may boast about a growing economy, in relative terms Canada's once-impressive performance has been replaced with a struggle to hold even with its peers.
A hard look at Canada's economy also needs to include the ingredients for long-term GDP growth, and there are plenty of candidates -- for example, share of Canadians with a post-secondary degree, or patent applications filed by Canadian companies. But it's hard to beat research and development spending, along with its corollary, the number of people working in science and technology.
How does Canada look on that front? Not great. In 2006, the country spent almost $30 billion on research and development, according to data from Statistics Canada. Until that point, the annual figure had risen each year for three decades, even after accounting for inflation.
In 2007, that increase slowed; in 2008, it reversed. And by 2012, the most recent year for which Statistics Canada has released data -- and three years after the recession ended -- R&D spending in real terms was barely above the level of a decade previous.
In fact, the sharpest drop, from 2009 to 2012, corresponds to annual reductions in federal R&D employment. The Conservatives inherited a federal government in which the number of people working in research and development had been growing since 2003. That trend continued until 2009; since then, it has fallen every year.
Ottawa now employs about the same number of R&D personnel in natural sciences and engineering, for example, as it did in 2006, Stephen Harper's first year as prime minister. A serious debate over the economy, which seems overdue in Canada, should include asking whether dismissing government scientists is helpful.
(Christopher Flavelle is a member of Bloomberg View's editorial board. Follow him on Twitter at @cflav. This post is adapted from an article published in the April edition of the Literary Review of Canada.)
This column does not necessarily reflect the opinion of Bloomberg View's editorial board or Bloomberg LP, its owners and investors.