Three Possible Reasons for Latest Obamacare Delay
Why is the administration delaying the Obamacare individual mandate again? Three possibilities stand out.
by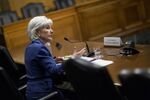 When Kathleen Sebelius , the Health and Human Services secretary, said earlier this month that there would be no more delays of the Affordable Care Act's individual mandate, perhaps you naively thought that this meant that open enrollment would close on March 31 and anyone who didn't have health insurance by then would be, well, subject to the individual mandate.