view
Wrestler's Pain Is Athletic Director's Gain
On Sunday, Ohio State wrestler Logan Stieber won his third NCAA title. The media's attention quickly turned away from the mat and toward the office of the university's Athletic Director.
by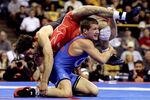 On Sunday, Ohio State wrestler Logan Stieber won his third NCAA title. Despite the history-making performance by the junior Buckeye, however, the media's attention quickly turned away from the mat and toward the office of the university's athletic director.
The Associated Press reports that AD Gene Smith will receive a hefty bonus for Stieber's victory as part of his incentive-laden contract inked last July. Smith receives a bonus every time Ohio State wins a national sports title: six week's pay for a championship in football or men's basketball; two week's pay for other team sports titles; and one week's pay for a championship in an individual sport, including cross country, track, diving, swimming, fencing, synchronized swimming, tennis, golf, gymnastics, rifle, pistol and wrestling. With an annual base salary of $940,484, Smith will receive a bonus of more than $18,000 thanks to Stieber's win.
Sportswriters around the Internet are up in arms: "Game is rigged," Sports Illustrated's Richard Deitsch tweeted, while Yahoo Sports' Rand Getlin commented, "These ppl are shameless." It's easy to see why people are outraged: The huge salaries and bonuses paid to coaches, athletic directors, and other university sports administrators are already central to the controversy over whether the NCAA should compensate student athletes, especially when it comes to big-money, team sports such as football and men's basketball. But this latest revelation casts a spotlight on an aspect of the debate rarely brought up except to justify maintaining the status quo of unpaid labor: the college world's warped priorities even when it comes to the smaller, non-revenue-generating sports.
A common rebuttal to the completely reasonable assertion the indentured servants we call "student-athletes" receive some sort of monetary compensation for their contribution to a multibillion-dollar industry is that not every sport makes the kind of money that football and basketball do, and that those big-sport revenues are necessary to subsidize the rest of the athletic program. It's also said that high-profile coaches and ADs earn such high salaries because their success on the field translates directly to massive amounts of dollars ostensibly put back into the schools themselves. The clash between these two ideas is highlighted by Smith's bonus for his athlete's title in wrestling -- not exactly a cash cow for the Ohio State University.
That this tidbit came out during the height of media exposure for the NCAA hasn't gone unnoticed, and has certainly fueled much of the backlash. As USA Today's Chris Chase notes, Ohio State is also paying football coach Urban Meyer $4 million, and March Madness will bring the NCAA upward of $10 billion in television rights fees -- both of which makes Smith's $18,000 bonus look like small potatoes. From a monetary standpoint, Smith's bonus pales in comparison, but it is underscores just how problematic the argument for "amateurism" remains in today's college sports climate. Without the huge ticket sales and television ratings, wrestling is certainly more "amateur" than football and basketball, yet the athletic administrators still make out like bandits while the individual athletes are lucky if they actually receive scholarships that cover their full tuition.
Yahoo Sports' Dan Wetzel points out that contracts structured to reward athletic directors for the fruits of their unpaid labor are quite common around the league and go well beyond Smith's incentives:
Arizona State AD Ray Anderson gets one week pay for any individual top-five finish and two weeks for a champion. Oregon's Rob Mullens gets $50,000 if the Ducks football team makes even the lowliest of bowl games, requiring just a 6-6 record, which would be a disaster of a season. Arkansas' Jeff Long can pick up $150,000 for clearing just four of seven painfully easy bars, i.e. one demands he engage in the nebulous "good citizenship."
You could argue that these administrators are simply earning their fair market value, which would be well and good if all or even most of their departments were contributing real value back to their schools. The financial picture isn't as rosy (or green) as you might think: As a recent Bloomberg View editorial notes, "a 2013 study found that athletic departments at just 23 of 228 Division 1 public schools bring in enough revenue to break even -- with students' fees often helping to make up the difference."
That these administrators make exorbitant salaries for big-money sports is one thing; that they're also feeding off the scraps of small-sport athletes is a whole other level of greed and hubris, rivaled only by that in the darkest recesses of Wall Street. They're the wolf and the vulture all rolled into one.
(Kavitha A. Davidson is a Bloomberg View columnist who writes about sports. Follow her on Twitter at @kavithadavidson.)
To contact the author on this story:
Kavitha A Davidson at kdavidson19@bloomberg.net
To contact the editor on this story:
Toby Harshaw at tharshaw@bloomberg.net
Before it's here, it's on the Bloomberg Terminal.
LEARN MORE