view
Obamacare Will Never Be Popular
Obamacare is less unpopular, which is not the same as being popular.
by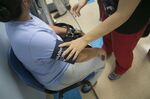 A new Kaiser monthly health care poll is out, and the headline is that the surge in unpopularity that followed the Affordable Care Act's botched rollout has mostly dissipated. So the ACA seems headed back to the more boring levels of unpopularity it attracted for most of 2013. The new Kaiser poll registers the law's favorability at 38 percent, with 46 percent of respondents viewing it unfavorably. That's a bit better than it has been doing in HuffPollster's poll-of-polls estimate.
As Greg Sargent notes in his excellent summary of the Kaiser numbers, they actually contain quite a bit of good news for Democrats. Only a minority supports "repeal" of the ACA, or "repeal-and-replace." A slim majority agrees that it's time for the country to move on from the issue altogether. Now as ever, most individual provisions of the law (other than the individual mandate) are, as Greg put it, "wildly popular."
Does that mean Obamacare as a whole will soon be popular? No. For one, fewer than one in five believes the ACA has helped them personally and, as I've argued, we're probably at peak awareness of the law's benefits right now. Even if the ACA works as well as supporters hope, many benefits will be either invisible to consumers or difficult for them to trace to the law. For example, many people won't realize that before the ACA they would have been excluded from insurance because of a pre-existing condition -- even a minor one. Meanwhile, anyone who has anything go wrong with their health insurance will find it easy to blame Obamacare.
There is also political asymmetry at work. Opponents of the ACA are dedicated (quite sensibly) to highlighting flaws and problems. Their goal is to make the law unpopular. But supporters aren't mainly interested in making Obamacare popular; their goal is to make the law work well. Likewise, opponents target all voters, arguing the law is bad. Supporters have a different audience and message, targeting a small chunk of the population (the uninsured, mainly) and urging them to buy insurance.
The survey data suggest a stalemate in which Obamacare remains unpopular for the long term, but Republicans (and any Democrat tempted to join them) risk a strong negative reaction if they actually try to repeal the law or its key features (other than the individual mandate). What's most likely? Republican Obamacare-bashing continues for a few years at least. At the same time, health care begins to recover its status as a normal issue, with reforms debated within the established framework of the ACA.
To contact the author on this story:
Jonathan Bernstein at jbernstein62@bloomberg.net
To contact the editor on this story:
Frank Wilkinson at fwilkinson1@bloomberg.net
Before it's here, it's on the Bloomberg Terminal.
LEARN MORE