A Stake Through the Greedy Heart of the NCAA?
Northwestern football players want a union. The NLRB just said they can have one.
by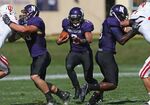 An earthquake has just rocked the shaky edifice of the NCAA. Peter Sung Ohr, a regional director of the National Labor Relations Board, today ruled that Northwestern University's football team can unionize.
This is a big, big deal. If the ruling is upheld by the NLRB in Washington, and the various courts to which the university and NCAA would then appeal, it will be a revolution. As members of a union, the Wildcat players could, for example, insist on having independent concussion experts on the sidelines during games. They could demand that Northwestern cover medical expenses related to sports injuries, as well as pay the full costs, including expenses, of attending college.
And now that the NLRB has certified Northwestern's union, you can expect plenty of other college athletes to follow suit. The ruling might already apply to all private FBS schools, including major ones such as Notre Dame and Stanford. The logical next step would be for college athletes at such schools to join together to form a single players union -- much like those for professional athletes.
This is not the first crack in the NCAA's foundation. In the 1980s, former All-American basketball player Dick DeVenzio dreamed of just this sort of union, but never achieved much beyond a weekly newsletter condemning the NCAA. Then last fall, Grambling State University's football team boycotted a game, protesting workplace conditions, including an athletic complex covered in mold and mildew, and uniforms so inadequately washed that players were complaining of staph infections.
Now, for the first time in college sports, a group of student-athletes will have a legally-sanctioned say in how they are treated. And they will be protected by the same labor laws that protect other U.S. workers.
It seems especially appropriate that Northwestern is leading the way. One of the many feeble-minded arguments against certification of the union was that Northwestern, with its sterling academic reputation and high graduation rates, couldn't be accused of "exploiting" its athletes. After all, Northwestern treated its players comparatively well.
That just wasn't especially relevant to the issue at hand. As the College Athletes Players Association put it in its brief: "An employee is an employee, whether his compensation is generous or parsimonious, whether he has excellent or tenuous job security, and whether his employer is enlightened or unreasonable."
What matters is that Northwestern football players devote 40 to 50 hours a week to football-related activities during the season. (And even more during summer training camp.) They may be students, but they are students who work. They are held to different standards of behavior than other Northwestern undergraduates -- standards laid out in detail in the team handbook. They receive financial aid in exchange for the services they provide to the football team. And those services generate millions in revenue for the university.
They are very valuable employees. Soon, they will be employees with union cards.
This column does not necessarily reflect the opinion of Bloomberg View's editorial board or Bloomberg LP, its owners and investors.