A Key Obamacare Question We Can't Answer
We still have no idea how many uninsured people have signed up for Obamacare.
by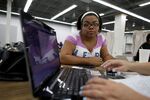 How many uninsured people have gained insurance as a result of Obamacare? Earlier this month, the Congressional Budget Office projected that the number of uninsured would decrease by 13 million people this year thanks to the Affordable Care Act. Are we on track to make that number?