Sotheby's Won't Let Just Anyone Buy Its Stock
In theory, corporate directors work for their shareholders, and in theory you might think that that would be a precarious existence. But, no, it's totally cushy. Let's find out why.
by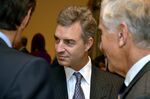 In theory, corporate directors work for their shareholders, and in theory you might think that that would be a precarious existence. Your shareholders are changing every 100 milliseconds! How can you concentrate on your job if, at any moment, someone could come in and buy a bunch of shares and tell you to change everything you're doing?
But, nope, it's great, you're basically un-fireable and can do whatever you want. There are lots of protections that have evolved against the risk of being bossed around, or fired, by public shareholders. There are Securities and Exchange Commission disclosure rules, which give boards notice of new large shareholders. 1 There are SEC proxy rules, which mostly let directors refuse to hold a vote on annoying shareholder proposals. And there are takeover protections, like poison pills and staggered boards, which mostly prevent anyone from buying a whole company without the approval of its directors.
Also, directors can just refuse to let anyone they don't like buy more than 10 percent of their company's stock. This has fairly obvious benefits for job security; it's good to have veto power over your boss. But the way directors do this -- by enacting a poison pill that is triggered if any shareholder buys more than 10 percent of the stock -- is on somewhat untested legal ground. The going rate in 2014 seems to be that you can put in a poison pill that limits activists to owning no more than 10 percent of the company, and even in the absence of a takeover threat. But the courts last looked at poison pills in 2010, when the going rate didn't go as far.
Here is a chart of the situation; of course the chart is not your lawyer and cannot provide legal advice: 2

There's some chance that we'll find out if the lawyers are right, since Dan Loeb's Third Point Capital, which owns 9.62 percent of Sotheby's, is running a proxy fight to elect three directors and shake up management, and is the obvious target of Sotheby's 10-percent-trigger poison pill, today filed a lawsuit to get rid of that pill. Loeb:
The Board's adoption of this discriminatory Poison Pill -- and its refusal to amend it in response to Third Point's request -- demonstrate that the Poison Pill is not a reasonable corporate response to a takeover threat, but rather an improper attempt to thwart Third Point's proxy contest and ensure that the current Board members remain firmly entrenched.
Sotheby's disagrees:
The Board believes this plan is an important tool to ensure that all Sotheby's shareholders are treated fairly, including in the context of rapid accumulations by 13D filers. The plan is designed to limit the ability of any person or group to seize control of the Company without appropriately compensating all Sotheby's shareholders. It provides the Board and shareholders with time to make informed judgments.
I mostly agree with Loeb here, but you knew that already. While I have a certain soft spot for companies that, say, go public without giving shareholders any say over their affairs, the question here is whether any Delaware public company board should be able to keep activists out of its stock. I still think fondly of the poison pill as a way to prevent shareholders from being subjected to coercive takeover offers, and the extension of the pill to non-takeover activism just feels wrong to me. Like Loeb says, this pill seems to me to be about the board's job security, not protecting shareholders. 3
Will courts agree? That I do not know; like the chart says, Delaware courts have not yet approved poison pills that are as aggressive as Sotheby's, but on the other hand Sotheby's('s) lawyers presumably know what they're doing. 4 I, on the other hand, do not, though on my casual reading of some random stuff I suspect they have a case. The relevant test is whether Sotheby's has reasonable grounds to believe that Loeb poses a threat, and whether the pill is a proportional response to that threat.
As to the threat -- well, like I said, I don't see it, but the Delaware court might think that any activist interference with the board is threat enough. 5
If there is a threat, then the question becomes whether the pill is a reasonable response, and "the key issue is whether the Rights Plan unreasonably inhibits the ability of [Third Point] to run an effective proxy contest." And there ... I dunno, Third Point is running a proxy contest.
We can't tell yet if it'll be an effective proxy contest, but I guess there's some reason to hope. For one thing, activists are having ever more success in getting long-only institutional shareholders to support their campaigns. For another, Loeb has plenty of arguments that Sotheby's board could use a shake-up. The job-preservation poison pill, for instance, is a pretty good argument all on its own.
This column does not necessarily reflect the opinion of Bloomberg View's editorial board or Bloomberg LP, its owners and investors.
(Matt Levine writes about Wall Street and the financial world for Bloomberg View.)
To contact the author on this story:
Matthew S Levine at mlevine51@bloomberg.net
To contact the editor on this story:
Toby Harshaw at tharshaw@bloomberg.net
Before it's here, it's on the Bloomberg Terminal.
LEARN MORE