Sandra Fluke's Inane Birth-Control Argument
Liberals are resorting to some desperate hypotheticals in the Hobby Lobby birth-control case.
by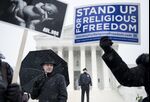 Should the government be able to force a kosher deli to carry non-kosher goods if it has incorporated itself? Would that deli get no protection from the Religious Freedom Restoration Act?