Could the Far Right Spoil France's Fun?
If a comedian wins a local election for the far-right National Front, France may lose its longest-running arts festival.
by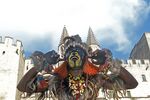 There are plenty of reasons to be concerned about the growing popularity of France's far-right National Front party. The latest involves the future of the country's longest-running arts event, the Festival d'Avignon.

Founded in 1947, the festival completely transforms the quiet medieval city on the Rhone for a week each July, attracting more than 3,000 performers and tens of thousands of spectators. Once upon a time, my wife and I had the good fortune to get caught up in the festivities on a trip through Provence. Mimes and musicians -- part of the festival's unofficial "off" program -- were performing at every corner. Dwarfs in heavy makeup rode around in a little yellow car, honking incessantly and giving away leaflets. A half-naked man played timpani in a street too narrow to let people squeeze past. A Chinese jazz band marched around the central square. Every surface was pasted over with posters for hundreds of performances -- serious ones from the official "In" program alongside kitschy and trashy street acts desperate for attention.
I don't need pictures to remember that trip, though it was years ago. The event would have lost much of its charm without the magic of the setting, the city where Petrarch met his Laura and where seven popes and two antipopes held court in the 14th and 15th centuries.
Now, though, the festival is facing a possible crisis: Its director, Olivier Py, is threatening to move it to another city if National Front candidate Philippe Lottiaux wins a mayoral race that will be decided in a four-way runoff this Sunday. Lottiaux won 29.63 percent in the first round of voting on March 23, narrowly beating Socialist Cecile Helle and making him the front-runner.
"I do not see myself working with a National Front mayor's office," Py says. "I don't see how the festival could live and defend its ideas of openness and accessibility." One of France's brightest and most provocative directors, Py achieved the distinction in 2011 of getting fired from the Theatre de l'Odeon by then-president Nicolas Sarkozy for producing a scandalous play about the last days of former president Francois Mitterand.
It seems unlikely that Lottiaux would unilaterally end the city's longstanding sponsorship of the festival. He has attended numerous times, and has his own personal interest in the performing arts: In a parallel life, the 47-year-old career bureaucrat is a stand-up comedian calling himself Philippe Bacart. Watching Bacart string together long chains of wordplay and make evil faces, I almost wanted to root for him out of pity: Please, somebody, let this poor man hear you laugh.

That said, Py, who is gay, has at least one good reason to reject Lottiaux as mayor and sponsor: The politician has made opposition to France's recent law allowing gay marriage a major part of his campaign. The law "will have dramatic consequences of which we do not yet realize the full extent," he says.
With unemployment running at 20 percent in Avignon, there's a good chance that anger at President Francois Hollande's Socialists will outweigh any desire to keep the festival and the roughly $32 million it brings to the city every year. As municipal elections take place throughout France this month, people in many towns see voting for the National Front's intolerance as a good way to tell Hollande he has botched his job. Led by the fiery Marine Le Pen, the party has fielded candidates in just 600 of France's 37,000 municipalities, but it has already won one mayoral office and is expected to add a few more Sunday in its best showing since the 1990s.
Allowing the National Front to become a third force alongside the two mainstream parties would be Hollande's worst legacy. The France of the Festival d'Avignon will have a hard time chasing the France of Marine Le Pen back under the slimy stone where it had been safely kept by previous governments.

This column does not necessarily reflect the opinion of Bloomberg View's editorial board or Bloomberg LP, its owners and investors.