Comparing Putin to Hitler Will Get You Fired
One of Moscow's most prestigious schools has fired a history professor for likening the Crimea invasion to Hitler's Anschluss of Austria. This is a precedent for Russian academics, too dependent on government funding to make much of a fuss.
by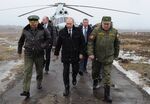 Russian President Vladimir Putin's mention of"traitors to the nation"in a momentous speech announcing Crimea's absorption into Russia is beginning to bear fruit. A professor who likened the annexation of the Ukrainian peninsula to Adolf Hitler's 1938 Anschluss of Austria has been fired from one of Moscow's most prestigious universities. He is unlikely to be the last casualty of the Kremlin's new anti-Western, proudly intolerant policy.
On March 1, right after Putin asked the Russian parliament for permission to use armed force in Ukraine, historian Andrei Zubov was hit with a sense of deja vu. In an article for the opinion page of the Moscow daily Vedomosti, Zubov pointed out the similarities between Putin's actions in 2014 and Hitler's in 1938. Both leaders justified their land grabs by the need to defend "suffering" compatriots. Both held questionable plebiscites in occupied areas to legitimize the annexations. In 1938, "Hitler's glory was at its zenith," Zubov wrote. "The world trembled in the face of Great Germany. Wasn't the fuhrer a political genius, attaching areas and whole countries to the Reich without a single shot?"
What followed, of course, was much bleaker for Hitler and for Germany. "Our politicians are dragging our people into a terrible, horrifying adventure," Zubov warned. "History tells us we will not be given a free pass. We should not buy this as Germans bought the promises of Goebbels and Hitler."
The historical parallels were there for all to see. I, too, mentioned them in a Bloomberg View column. Zubov's situation, however, was special: He was employed as a full professor by Moscow State Institute of International Relations, one of the most prestigious universities set up in Soviet times under the auspices of the foreign ministry. Most of Russia's ranking diplomats attended this school, and its current graduates often go into the foreign service.
The foreign ministry, under Sergei Lavrov, has been at the center of the Crimean crisis from the start. In talking to outraged Western partners, it chose a tone that was by turns menacing and defensive. The ministry's site has been running decidedly undiplomatic statements about Ukraine. A recent one recounted an incident in which a group of armed "Ukrainian ultranationalists" allegedly robbed the Russian passengers of a train passing through Ukrainian territory. "Apparently, the anarchy of the early 20th century is coming back to Ukraine," the statement went. "This is the kind of law-governed state that is being set up in Ukraine today!"
Zubov's article clearly went against this propaganda line. After his department chair informed him he would be fired, Zubov's daughter wrote about it on Facebook, and outrage spread in the academic community. Zubov's colleagues signed letters of protest. "Not all of us agree with Zubov's conclusions and analogies, but we would like it to be remembered that any political persecution of a scholar and teacher violates the academic freedoms guaranteed by the Russian constitution and international law," one of these collective letters went.
On March 5, however, the institute's president backed off. "All the hiring and dismissal procedures are carried out in accordance with the law," Anatoly Torkunovtold the news agency Interfax. "The administration has not given him notice. I am, frankly, surprised by all the noise about this."
Less than three weeks later, on March 24, Zubov was dismissed for "violating the principles of corporate behavior" imposed by the connection between the university and the foreign ministry. "The numerous statements and interviews by A.B. Zubov about events in Ukraine and Russia's foreign policy are causing indignation and perplexity in university circles," read a statement on the school's site. "They contradict Russia's foreign policy and inflict careless, irresponsible criticism on the actions of the state, thus causing damage to the teaching and educational process."
That sort of unabashed Soviet language must have been necessary after Putin's speech, in which he warned the West not to try using a "fifth column" of "traitors" inside Russia to undermine him. After all, there was really no need to fire Zubov: His contract was due to run out in the summer. The university, however, made an example of him. The precedent shows clearly that academics and anyone else receiving public funds must now toe the official line or face reprisals.
It will be interesting to see how many Russian academics will be able to ignore the warning. My guess is not many: The Russian government pays for almost all research, having clamped down on foreign grants in the first months of Putin's third presidential term. University teachers will now be extra careful lest someone reads their thoughts, not just their op-ed articles.
This column does not necessarily reflect the opinion of Bloomberg View's editorial board or Bloomberg LP, its owners and investors.