Who Benefits From an Apple-Comcast Deal?
America's biggest cable-television company may be teaming up with the world's most valuable enterprise.
by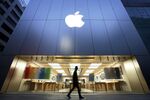 Tech companies have wanted to use the Internet to supplant the cable-television companies for ages. Microsoft Corp., for instance, connected TVs to the Internet back in the 1990s, but got nowhere.
Now it's Apple Inc.'s turn and odds are it won't fare much better than Microsoft's earlier foray for a variety of reasons. According to the Wall Street Journal, Apple is trying to persuade Comcast Corp. to separate its data "from public Internet traffic" by treating it like Comcast's own video-on-demand service. Consumers would be guaranteed superior picture quality and none of the buffering hiccups found in many streaming services.
If the two sides can work out terms, it would be fundamentally different from the recent agreement between Comcast and Netflix Inc. and also different from what Apple had been discussing with Time Warner Cable Inc. before Comcast agreed to acquire the second-biggest cable company. Technically, Apple isn't asking to have its traffic actively prioritized over that of rival video services, although that is probably what would occur in practice. That means the arrangement may be able to slip past rules meant to prevent residential broadband companies from giving preference to one service over another.
It isn't obvious, though, what Comcast would get out of this besides a lot of unwanted regulatory attention at a time when it is busy trying to get the government to approve its acquisition of Time Warner Inc. Comcast, more than any other pay-TV company, has invested a lot of money and effort in developing a set-top box fit for the modern age. Comcast's X1 can make recommendations for television programs based on viewing habits, has an intuitive search function for finding live TV and even responds to voice commands.
There is no reason to think that the company would benefit from Apple's technology, especially when Apple is demanding a cut of the monthly subscriber fees paid to Comcast. Apple also wants Comcast to shoulder the bulk of the investment needed to provide Apple with the required capacity. Nor is there any evidence that Comcast would benefit from having Apple's set-top box in the way AT&T Inc. did from being the exclusive distributor of the iPhone for first few years it was on the market.
Apple already makes a device that can plug into your television and can be used to watch content from services such as Netflix, Hulu and Apple's iTunes store over the Internet. But Apple TV is unremarkable compared with competitors from Roku Inc. or game consoles made by Microsoft and Sony Corp., much less the large number of televisions that can stream Internet video right out of the box. It's difficult to watch Amazon Inc.'s video-streaming service on Apple TV, possibly because the rival tech giant has plans to release its own device relatively soon.
Anyway, the biggest constraint on Internet-based video services still is the high cost of content. Until Apple figures out how to solve that problem, and so far it has no presence in the business of creating hit programs and films, its forays into television probably won't get very far.
This column does not necessarily reflect the opinion of Bloomberg View's editorial board or Bloomberg LP, its owners and investors.
(Matthew C. Klein is a writer for Bloomberg View. Follow him on Twitter at @M_C_Klein.)
To contact the author on this story:
Matthew C Klein
To contact the editor on this story:
James Greiff at jgreiff@bloomberg.net
Before it's here, it's on the Bloomberg Terminal.
LEARN MORE