When Is a Bank Too Small to Stress Over?
Some of the bank's included in the Federal Reserve's latest round of stress tests seem too small to pose a threat to the U.S,. financial system. 
by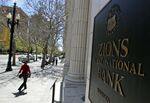 Could the U.S. financial system really not survive the collapse of Zions Bancorporation?
The Salt Lake City-based lender has received more than its fair share of attention, after suffering the indignity of being the only company to flunk the Federal Reserve's latest stress tests. Much has been written about the implications for Utah's largest bank, including a Lex column in the Financial Times that said Zions may have to raise fresh capital by selling common stock. (Heaven forbid.)
What makes no sense is that Zions was ever deemed a systemically important financial institution in the first place. With only $56 billion of assets, it's hard to envision any scenario in which the failure of Zions, by itself, could trigger some catastrophic chain of events in world markets. Yet there it was on the list of the 30 bank-holding companies that were subjected to this year's stress tests.
Zions was the smallest company on the list and the only one that failed the test, which was designed to gauge how banks would fare during a hypothetical crisis. It's probably a good thing for the Fed that Zions was included on the list, too. If every bank that got tested had passed, there would have been no end to the snickers from critics who already perceived the exams as too easy.
Zions was included because it fell on the wrong side of an arbitrary bright line. The Dodd-Frank Act, which Congress passed in 2010 after the worst of the financial crisis, requires the Fed to conduct annual stress tests of all U.S.-based bank-holding companies with $50 billion or more of total assets. If a bank has less, it isn't considered systemically important. This was the first time Zions went through the exercise. Last year's tests covered only 18 companies, because the Fed's stress-test rules hadn't been fully implemented yet.
If it weren't for the systemically important designation, there would be no reason for anyone to believe that Zions is too big to fail. By sticking Zions with that label, though, the government seems to think there's a chance that it might be, as ridiculous as that might seem. The U.S. has a $16 trillion economy. The country easily would survive the failure of Zions, with assets of about a third of a percent of the U.S.'s gross domestic product.
Indeed, 18 of the 30 companies that were tested had assets of less than $200 billion. Eight of them, including Dallas-based Comerica Inc. and Columbus, Ohio-based Huntington Bancshares Inc., had less than $100 billion of assets.
And take a look at which bank-holding company is right below the $50 billion threshold: CIT Group Inc., with $47 billion. Remember CIT? The New York-based commercial lender filed for bankruptcy in 2009, back when it had more than $70 billion in assets. The sky didn't fall, and CIT emerged from bankruptcy later that year. If CIT's assets today were only a few billion dollars more, the company would have to be stress-tested. Because it was below the $50 billion mark, it wasn't.
I don't know what the right number is here. But $50 billion, or even $200 billion, doesn't seem big enough to deserve special status under the law. As for Zions, if it doesn't like the extra scrutiny, it has an easy option to pursue: Shrink a little.
This column does not necessarily reflect the opinion of Bloomberg View's editorial board or Bloomberg LP, its owners and investors.
To contact the author on this story:
Jonathan Weil at jweil16@bloomberg.net
To contact the editor on this story:
James Greiff at jgreiff@bloomberg.net
Before it's here, it's on the Bloomberg Terminal.
LEARN MORE