What Detroit Wants From Washington
Don't send money, Washington. That's what Republican Governor Rick Snyder of Michigan said today at a journalist roundtable with Bloomberg View. 
by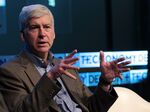 Don't send money, Washington.
That's what Republican Governor Rick Snyder of Michigan said today at a journalist roundtable with Bloomberg View. When asked about the U.S. sending aid to Ukraine but not to Detroit, the governor said he isn't bitter. "Let's be innovative. Send me 50,000 visas to jump-start the economy." He's asking for the EB-2 kind that would keep some of the 1,800 foreign students who graduate from Michigan colleges each year with STEM degrees here.
"One tough nerd," Snyder, formerly a venture capitalist and chairman of Gateway Inc., called himself in ads for his first gubernatorial race. Now, seeking reelection after running one tough place for three years -- with his state's biggest city, Detroit, in bankruptcy -- Snyder appeared in an ad during this year's Super Bowl. Donning scuba gear and surfacing with a soft sax playing in the background, he emerged from water, a metaphor for bringing Michigan back from drowning.
Snyder is a lonely Republican. He's among the few governors in his party allowing for Medicaid expansion in his state in accordance with Obamacare. Snyder had a wellness company at one time and sees the common sense in treating illnesses early before they become expensive. He points out that the Affordable Care Act has so polarized politicians that they can't see what's in their constituents' interest. "Politics messes things up," he noted.
As hard as the reporters present today tried, they could not get Snyder to engage on gay marriage or other social issues. Over the past weekend, hundreds of same-sex couples married in Michigan after a federal judge struck down a constitutional ban. An appeals court then issued a stay. Snyder said Michigan's attorney general, Bill Schuette, who supports the ban, may be running against the history, but that his office is independent of the governor's. Mostly, Snyder said there are only so many hours in a day. Investing political capital in gay marriage is not among his priorities.
Like the businessman he was, Snyder is pushing his state, the nation's largest cultivated blueberry producer, forward. He held up a black analog watch with silvery hands made by Detroit's Shinola. So many hip people are moving to Detroit, he said, that there's a shortage of places to live downtown. It's the outer neighborhoods that are still having a hard time.
Snyder has a saying about "relentless positive action." If governors behaved like Washington politicians, it wouldn't be tolerated in their states. We would never drop our expectations as low in our personal lives as we have done in our political lives.
To be relentlessly positive, let me conclude: Get a life, Washington. Come to Lansing, where the governor is above water and all the blueberries are above average.
This column does not necessarily reflect the opinion of Bloomberg View's editorial board or Bloomberg LP, its owners and investors.