Nate Silver Predicts Republican Senate Advantage. Is He Right?
There is no shortage of predictions about the 2014 race.
by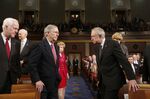 Everyone is all worked up this morning because Nate Silver, over at the new (and very nice) FiveThirtyEight.com, has put up his first Senate race forecastsince last summer, giving Republicans a better-than-even chance of retaking the Senate.
Let's try this Q and A style:
Question: Is Silver's prediction an outlier?
Answer: Not at all. A toss up with a slight edge to Republicans is right in line with predictions by Sean Trende; the Cook Report's Jennifer Duffy; the Rothenberg Political Report; political scientists Eric McGhee, Ben Highton and John Sides; and also political scientist Alan Abramowitz. Those forecasters come from different traditions and use different methods, but they all think Senate control is a toss-up, with slight variations about which party is the favorite.
Q: So we're headed for either a 51-49 or 50-50 Senate?
A: No. Silver casts his prediction as a six-seat gain for Republicans, plus or minus five seats. That's a very large range! Trende has an ever larger predicted range, and I'm with him: It's possible for Democrats to gain a seat...or for Republicans to gain more than twelve. It's still too early for anything more definitive. In fact, the margin of error involved means there isn't much difference between a toss up with a slight edge for Republicans, and one with a slight edge for Democrats.
Q: What are the big unknowns that could make a big difference?
A: The first is Republican primaries. In a number of states -- North Carolina, Alaska, Georgia, and others -- Republicans could wind up with a strong mainstream conservative with an excellent chance of winning. They could also be saddled with a fringe candidate who is likely doomed. Those primary odds are factored in to state-by-state predictions such as Silver's, but Senate primaries are extremely volatile; it's almost impossible to predict them far in advance.
Another possibility is a change in the national political climate. At this stage, there is probably a lot more downside risk for Democrats. A major scandal or a serious economic dip could drag President Barack Obama's approval down suddenly. Good economic news would probably mean only a slight acceleration in his gradually improving approval ratings. Most "rally" events -- for example, a threatening move by Russian President Vladimir Putin that might inspire Americans to higher levels of support for the president -- yield only temporary positive (or negative) spikes. So a foreign policy crisis probably wouldn't have much electoral effect.
Q: Is this election ultimately all about Obamacare damaging the Democrats?
A: No. Remember, the U.S. is still basically a 50-50 nation. What's happening in the 2014 Senate elections is mostly driven by which seats are up this year, and what happened in those seats in 2008, the last time they were contested, which was a very good year for Democrats. If Republicans win open seats in Alaska, West Virginia, and South Dakota, that's just a 50-50 nation reasserting itself. The oddity is having Democrats representing those states, along with North Carolina, Arkansas, Louisiana and Montana, in the Senate. Some of those states are competitive, but Democrats hold them because 2008 was a Democratic year. It's also true that 2014 is shaping up as a somewhat weak year for Democrats overall, but it's far from clear that the Affordable Care Act is the reason. More likely? The economy.
This column does not necessarily reflect the opinion of Bloomberg View's editorial board or Bloomberg LP, its owners and investors.
(Jonathan Bernstein covers U.S. politics for Bloomberg View. He is co-editor of "The Making of the Presidential Candidates 2012." Follow him onTwitter at @JBPlainblog.)
To contact the author on this story:
Jonathan Bernstein at jbernstein62@bloomberg.net
To contact the editor on this story:
Frank Wilkinson at fwilkinson1@bloomberg.net
Before it's here, it's on the Bloomberg Terminal.
LEARN MORE