Sunday Question for Liberals
What should Justices Ginsburg and Breyer do?
by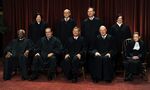 I've been hitting on this Ginsburg/Breyer thing for a while and some of you have commented on it. So given all the back-and-forth ... Do you want Justices Ruth Bader Ginsburg and Stephen Breyer to resign from the Supreme Court this spring, pending the confirmation of their replacements? Or would you rather one or both of them stayed on the job as long as they are still at the top of their game?
This column does not necessarily reflect the opinion of Bloomberg View's editorial board or Bloomberg LP, its owners and investors.
(Jonathan Bernstein covers U.S. politics for Bloomberg View. He is co-editor of "The Making of the Presidential Candidates 2012." Follow him onTwitter at @JBPlainblog.)
To contact the author on this story:
Jonathan Bernstein at jbernstein62@bloomberg.net
Before it's here, it's on the Bloomberg Terminal.
LEARN MORE