Sunday Question for Conservatives
How would a Republican president deal with Russia and Ukraine? 
by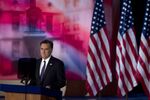 How do you think the situation in Russia/Ukraine would be different if Mitt Romney had been elected in 2012? Or, if you prefer, if Senator John McCain won in 2008 and was re-elected in 2012?
This column does not necessarily reflect the opinion of Bloomberg View's editorial board or Bloomberg LP, its owners and investors.