How High-Speed Traders Are Like Fish
High-frequency traders might actually help regular investors make better decisions.
by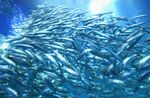 At precisely 4:00:00 p.m. on Dec. 5, closing time for the Nasdaq stock exchange, a company called Ulta Salon Cosmetics & Fragrance announced worse-than-expected earnings. By 4:00:01 p.m., in the one second Nasdaq required to calculate the final stock price, high-speed traders with access to direct news feeds had already knocked it down by about 3 percent.