view
Why Central Banks Should Be Vague
Central banks can undermine their own goals by providing too much detail in their policy promises.
by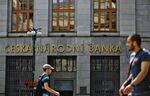 Given the way markets reacted to Janet Yellen's remarks at her first press conference as U.S. Federal Reserve chair, the world's central bankers might reasonably wonder whether they should ever be specific about their future policies.
Until the 2008 crisis, forward guidance -- advance warning on what a central bank will do with its interest rates -- was mainly practiced in the smaller economies, such as the Czech Republic, Israel, New Zealand and some Nordic countries. Researchers found their experience to be positive: The central banks typically stuck to their commitments and succeeded in anchoring inflation and policy expectations, which is why they used the guidance in the first place. Added information on the future path of interest rates, however, wasn't particularly helpful. As long as the central bank remained credible, it did not have to go into the details of its plans.
Then the global financial crisis hit, and the U.S. Federal Reserve, the European Central Bank, Bank of England and Bank of Japan all started providing forward guidance to provide added stimulus and stabilize turbulent markets. That experience has been less satisfactory, according to a recent study published by the Bank of International Settlements.
The BIS paper looks at three types of forward guidance: qualitative (like the ECB's July 2013 statement that "the Governing Council expects the key ECB interest rates to remain at present or lower levers for an extended period of time"), calendar-based (like the Fed's September 2012 announcement that it "currently anticipates that exceptionally low levels for the federal funds rate are likely to be warranted at least through mid-2015") and threshold-based (like the Bank of England's August 2013 commitment to not to raise its target rate of 0.5 percent at least until "the unemployment rate has fallen to a threshold of 7 percent.")
The BIS found that all three types of guidance tend to affect the volatility of expected interest rates only at a shorter horizon. The markets do not seem to believe in the central banks' ability to make long-term commitments regardless of the level and type of detail they provide. That begs the question of whether it makes sense to make the commitments any more specific than, say, the ECB's general statement.
There is strong evidence that it doesn't. In February, Bank of England Governor Mark Carney had to drop the unemployment link just six months after introducing it because the 7 percent joblessness threshold was reached far sooner than he had expected, and the central bank was not ready to raise rates yet. Explaining his decision, Carney said there were still obstacles to a sustainable economic recovery which allowed policymakers to "responsibly take their time." Well then, what was the point of irresponsibly linking rates to unemployment?
In December 2012, the U.S. Federal Reserve was quite specific in setting policy goals, saying it would keep the federal funds rate at 0 to 0.25 percent as long as unemployment remained above 6.5 percent and inflation between one and two years ahead was projected at no more than 2.5 percent. Then, in May 2013, Fed chairman Ben Bernanke mentioned the possibility of "tapering" bond purchases. Markets were thrown off balance. As the BIS paper put it:
"If financial markets become narrowly focused on certain aspects of a central bank's forward guidance, a broader interpretation or recalibration of the guidance could lead to disruptive market reactions. The global financial market developments last May and June in response to the Federal Reserve's tapering communication highlight such a risk."
The developments included, among other things, a destructive emerging-markets currency crisis, hardly a consequence Bernanke intended.
At her press conference, Yellen, too, was unnecessarily and surprisingly specific. Asked how long the Fed might wait before stopping bond purchases and raising interest rates, she suddenly provided a concrete time frame, "around six months or that type of thing." Traders had not expected this: The Fed had just dropped the specific forward guidance referring to 6.5 percent unemployment and mentioned only watching a "wide range of indicators" to move toward its goals of full employment and 2 percent inflation. So why was Yellen suddenly introducing an element of calendar-based guidance? The ensuing volatility was a natural result.
For central banks to be consistent in the face of economic instability and political disruption, their guidance should be as vague as possible. In that sense, the ECB is doing the best job of the major central banks. The markets know it wants to keep money as cheap as possible until it can be sure Europe's recovery is going to last. That is enough to keep inflation and interest rate expectations firmly anchored. Setting dates and thresholds is, of necessity, going to be misleading if a central bank is truly doing its job and not running a computer program in which certain inputs trigger predetermined actions.

(Leonid Bershidsky writes on Russia, Europe and technology for Bloomberg View. Follow him on Twitter at @Bershidsky.)
To contact the author on this story:
Leonid Bershidsky at lbershidsky@bloomberg.net
To contact the editor on this story:
Mark Whitehouse at mwhitehouse1@bloomberg.net
Before it's here, it's on the Bloomberg Terminal.
LEARN MORE