Turkey Bans Twitter to Save Democracy
by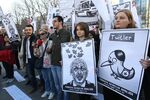 What's a budding authoritarian to do? Turkish Prime Minister Recep Tayyip Erdogan banned Twitter from the country -- and it didn't work. So many Twitter users were able to get around the ban that usage more than doubled today, the first day in which the service was blocked. Plus, Turks had a laugh at Erdogan's expense.
Erdogan is in the midst of an extraordinary local election campaign, a kind of Dutch auction of democratic values sold as saving democracy. It will do nothing of the kind.
He has long since tamed or taken control of the nation's traditional media, and he understands how newspapers and TV channels work and how to control them. Yet corruption allegations against him and his government still get distributed through the Internet. So he has joined a select club, along with China, of countries that try to bar Twitter.
That turns out to be hard to do. First of all, Twitter itself sent out tweets telling people how to use text messages to post. Mostly that wasn't necessary. Twitter users circulated the domain name addresses for workarounds, even daubing them on walls. Twitter users had fun. The Wall Street Journal collected some of the more inventive images: a Pacman Turkish flag eating a Twitter bird, Twitter birds pooping on Erdogan's head, and so on.
Even President Abdullah Gul worked around the ban to tweet to his millions of followers that blocking entire social media platforms "cannot be approved."
The only thing the ban managed to accomplish was reaffirming the belief of his opponents that Erdogan poses a threat to free speech and subverts citizens' rights to live and communicate in the modern world.
Erdogan has a genuine problem: He says a parallel state, run by his former ally and conservative preacher Fetullah Gulen, is out to destroy him with illegal wiretaps. This is probably true. Erdogan and his ruling Justice and Development Party need to do well in the March 30 elections to prove that he has a mandate for his increasingly peremptory role.
Yet almost every day a new tape recording emerges purporting to show either Erdogan or his top aides and associates engaged in corruption. Erdogan has either dismissed the tapes as frauds or denied their relevance.
Lately Turkey's Internet community has been on fire with reports that the most damaging material, this time video recordings that purport to depict sexual improprieties by senior politicians, has been saved for the final 10 days of the election campaign. The Twitter shutdown was his response.
The pro-government daily Aksam has tried to get ahead of the story. It published an article warning that the "Hollywood"-quality videos were created using stand-ins wearing silicon masks.
Erdogan retains a fiercely loyal base that isn't on Twitter and is suspicious of those who are. Recent opinion polls suggest that his party may score better than the 39 percent that it won in the last local elections in 2009, even after the Gezi Park protests of last year and the corruption allegations.
Yet Erdogan's actions are polarizing the country ever more. It's a sign of the growing lack of trust in Erdogan's democracy that a marketing technology company has developed a Twitter-based algorithm to track voting intentions in the Istanbul mayoral race, once the opinion polls stop.
Whether the Twitter ban works isn't the main issue, though. In a less dramatic way than Russian President Vladimir Putin, to Turkey's north, Erdogan is sacrificing the ties that bind his country to the developed world in the interest of securing his own position in power. That is a disaster for Turkey and, if he only understood it, for Erdogan, too: Once he has stamped out free media, strangled the Internet and crushed Turkey's democratic institutions, who will remember his earlier achievements?

This column does not necessarily reflect the opinion of Bloomberg View's editorial board or Bloomberg LP, its owners and investors.