Pension Funds' Risky Business
Faced with low interest rates, banks didn't chase after yield. But pension funds did.
by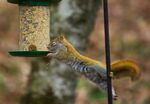 It's the semi-annual Brookings Papers on Economic Activity conference, and I'm afraid I can't be there. But since I'm pining for two days of super-smart economists debating one another, I'm going to blog the papers anyway, starting with Gabriel Chodorow-Reich's paper on the effects of the Federal Reserve's low interest rates on financial firms.