Military Can't Get It Right on Sex Crimes
In Sinclair case, brass did wrong by trying to do good.
by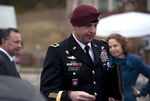 U.S. Army Brigadier General Jeffrey A. Sinclair, 51, one of only a handful of senior officers to face court-martial in the last 60 years, was given an extremely light sentence -- no jail time and a relatively small fine -- in a case of sexual misconduct involving a female officer under his command. Only weeks before the case ended with a whimper yesterday, he appeared to be heading toward life in prison.