Yellen and the Curse of Forward Guidance
Investors always want more information, but they're not always good at sifting useful information from noise.
by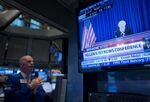 It wasn't the debut Janet Yellen had hoped for. During her first press conference as Federal Reserve chairman, she said something she almost certainly hadn't meant to, and the markets took it badly. The misunderstanding was more their fault than hers. Even so, it's yet another illustration of the perils of forward guidance.
Yellen was asked how long the Fed expected to wait before starting to raise interest rates once it has brought quantitative easing to an end: What did the official formula of "a considerable period" mean? She said, "It's hard to define but, you know, it probably means something on the order of around six months or that type of thing."
The markets seized on this as actionable information. At the present rate of tapering, QE will end in October. Add six months and you get to next spring. Previously markets had expected rates to start rising a few months later than that. So Yellen was judged to be tightening policy, stock prices fell and bond yields rose.
That was a remarkably dumb conclusion for investors to draw from a press conference that had otherwise been at pains to say that the expected policy track was unchanged. Aside from the six months comment, Yellen gave no indication whatever that the Fed intended to tighten policy, relative to what the markets were expecting.
What she should have said when asked what "a considerable period" meant was, "It's hard to be more precise; it all depends on what happens." After all, the Fed has explicitly moved away from attaching dates to information about its policy intentions, preferring to say that policy will be guided by conditions. The length of the considerable period will depend on conditions. Enough said.
The fallacy about forward guidance that repeatedly tripped up Ben Bernanke, Yellen's predecessor, and caused her to stumble at her first outing is the idea that more information -- more words, more numbers, whatever -- must be good. No.
It's valuable to be told that the Fed will keep interest rates very low while there is still some slack in the labor market, inflation is suppressed, and market expectations of inflation are well-anchored. Yellen said all that. It's also valuable to be told that the Fed will consider a range of indicators in judging labor market conditions -- as opposed to relying solely on a numerical threshold for the unemployment rate (which the Fed has now rightly dropped from its guidance). She said that too. But since the Fed doesn't have a fixed formula for labor market slack -- that's a judgment call -- there's really nothing more to be said.
Nothing useful, I mean. Investors always want more information, but they're not always good at sifting useful information from noise. The Fed could help them by recognizing that sometimes less is more.
(Clive Crook is a member of the Bloomberg View editorial board. Follow him on Twitter @clive_crook.)
Tobin Harshaw at tharshaw@bloomberg.net.

This column does not necessarily reflect the opinion of Bloomberg View's editorial board or Bloomberg LP, its owners and investors.