For Putin's Pals, Sanctions Get Personal
The latest edition of U.S. personal sanctions against Russia is a personal insult from U.S. President Barack Obama to his Russian counterpart.
by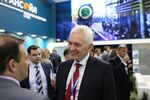 The purpose of U.S. sanctions against Russia is now clear: Inflict personal pain on Russian President Vladimir Putin. The U.S. Treasury Department's most recent additions to the list of individuals facing travel restrictions and U.S. asset freezes focus on some of Putin's closest associates, including his judo sparring partners and fellow members of an exclusive housing community near St. Petersburg.

As much as the men on the list deserve the symbolic punishment, the U.S. probably won't get much traction with what amounts to a declaration of personal hostility by U.S. President Barack Obama. It won't make Putin give back Crimea or ease pressure on Ukraine. It will, however, draw a response from Putin in a game of tit-for-tat that may quickly evolve into a death spiral.
Of the 20 names on the new list, six are particularly important: brothers Arkady and Boris Rotenberg, Andrei Fursenko, Yuri Kovalchuk, Gennady Timchenko and Vladimir Yakunin.
Putin first met the Rotenberg brothers in 1965, when he was 13 years old. They attended the same judo school in St. Petersburg. The friendship endured, and Arkady Rotenberg continued training with Putin into the 1990s. Together, Putin and Rotenberg founded the Yavara judo club, which won multiple European championships. Rotenberg was the biggest recipient of Russian government contracts in 2013, winning $5 billion worth. He was especially active in picking up orders from Gazprom, the state-controlled natural gas monopoly. Forbes estimates the brothers' combined fortune at $5.7 billion, all of it amassed under Putin.
Timchenko held a 45-percent stake in Gunvor Ltd., the Swiss oil trading company in which the U.S. Treasury claims Putin is also an investor. (Gunvor reported on March 20 that Timchenko had sold his stake on March 19, and said that Putin "has not and never has had any ownership, beneficial or otherwise in Gunvor.") Timchenko met Putin when the future president worked in the St. Petersburg mayor's office in the 1990s, and he sponsored the Yavara judo club. He has long denied being close to Putin. Nonetheless, he was the third biggest recipient of Russian government contracts in 2013. Many were in road and bridge construction. Timchenko's and Rotenberg's businesses are doing much of the road improvement work in Moscow these days. He holds Finnish and Armenian citizenship in addition to his Russian passport.
Fursenko, Kovalchuk and Yakunin were all members of the Ozero housing cooperative, set up to build country homes on a fenced-off lakeshore north of St. Petersburg. Yakunin now runs the Russian railroad monopoly and is one of the nation's most powerful executives. Fursenko, a former education minister, runs the Russian science foundation, which finances academic projects. Kovalchuk owns the National Media Group, a media empire that encompasses TV channels, newspapers and websites invariably friendly to the national leader.

Kovalchuk is also the biggest shareholder in Bank Rossiya, the only company mentioned so far in the Treasury Department sanctions list. When Putin worked at the St. Petersburg mayor's office, the bank was used to accumulate proceeds from selling foreign humanitarian aid to the half-starving city. At various times, some of Russia's most powerful businessmen boosted its capital by buying small equity stakes at inflated prices. The bank grew, and the businessmen acquired useful connections and government orders.
When the first edition of the U.S. individual sanctions came out, the list of affected Russian and Crimean officials was laughable. No one on it had anything to do with the annexation of Crimea, and no one was close enough to Putin to make him think twice. Russian opposition leader Alexei Navalny, who is now under house arrest on trumped-up larceny charges, suggested an alternative list, which included more Russian officials and oligarchs. On March 19, he ran a poll on his LiveJournal blog, which is blocked in Russia by the national telecom regulator but visible from foreign IP addresses, asking who his readers thought should be sanctioned. "Businessmen from Putin's close circle," including the Rotenbergs, Kovalchuk and Timchenko, turned out to be the top choice.
Most of the Putin cronies on the list have known assets in Europe and Caribbean offshore areas. They will suffer serious damage only if the European Union puts them on its list of sanctioned individuals -- which is doubtful because of the U.K.'s desire to avoid damage to London banks and the city's reputation as an international financial center. The U.S. sanctions are also designed to cause minimum economic damage: They don't touch Russia's major government-owned companies, such as Gazprom or Rosneft, headed by long-time Putin associate Igor Sechin. Keeping them out of the U.S. would be a heavy blow.
The sanctions' intent is easily readable to Putin. Even if he is not as close to the men on the list as their history and the government contract breakdown suggest, he will know Obama wanted to strike at those who are, to the best of his knowledge, his best friends, possibly even the keepers of his personal fortune.
Putin will retaliate. The Russian Foreign Ministry published a list of U.S. legislators and administration officials who will be denied entry to Russia, including House Speaker John Boehner, Senator John McCain and Deputy National Security Adviser Caroline Atkinson, but that is hardly the end of it. U.S. companies operating in Russia should prepare for the worst: Putin is a vengeful man.
This column does not necessarily reflect the opinion of Bloomberg View's editorial board or Bloomberg LP, its owners and investors.