Nixon No Longer Kicks Around the Campaign-Finance System
The arguments for public money are obsolete.
by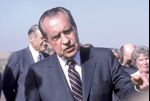 I supportCongress's decision to end public financing for the party conventions. Now, Ciara Torres-Spelliscy of the Brennan Center for Justice has tried and failed to make the case for the other side.
Just because President Richard Nixon extorted money from ITT in the form of funding for the 1972 Republican National Convention doesn't mean we need public financing for conventions today. The nomination process and campaign-money regime have evolved (Dita Beard references are always welcome, but not always relevant).
I don't favor full public financing of presidential campaigns. It's a legitimate position, but the rules imposed by the courts and the preferences of the major parties ensure it won't happen. These days, a rich individual can sink millions into a presidential campaign, and that's the way it's going to be.
By itself, public financing of the conventions doesn't protect against corruption. It's merely an incentive from the government for the parties to advertise themselves in a particular way, through multiday informercials, which is what the conventions are these days.

Given the choice, I would have shifted the convention money to partial public financing of House elections. Or I could imagine an argument for simply handing the parties a check, and letting them spend the money as they see fit.

What I can't imagine is making a case based on 42-year-old Nixonian shenanigans.

This column does not necessarily reflect the opinion of Bloomberg View's editorial board or Bloomberg LP, its owners and investors.