March Madness Is Not Destroying Your Company
The NCAA tournament kicks off today, giving bosses and managers their annual opportunity to freak out over the competition's effects on office productivity.
by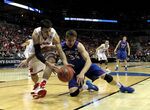 The NCAA men's basketball tournament has tipped off, giving bosses and managers their annual opportunity to freak out over the competition's effects on office productivity.
Every year around this time, studies and articles postulate on just how much time employees spend goofing off to watch their alma maters face off during working hours. Some of these go beyond individual offices to project the economic hit to the entire American workplace. Challenger, Gray & Christmas Inc. released its annual report last week under the rather alarmist headline, "March Madness Could Cost Employers $1.2 Billion." That figure represents the wages paid to unproductive workers, based on a 2009 Microsoft survey that determined that 50 million Americans participate in tournament office pools, the average hourly earnings of $24.31 in the Bureau of Labor Statistics' most recent employment report, and the assumption that each worker spends at least one hour filling out a bracket or otherwise engaged in NCAA-related activities.
These numbers -- and, more importantly, their interpretation -- are dubious at best. Charles Clotfelter, a professor at perennial March Madness participant Duke, conducted a similar study involving academic research and told NPR in 2010 that while immediate productivity appears to decline, the effect on overall productivity is probably overblown, as students and workers anticipate the tournament and can therefore plan ahead to compensate.
"The tournament has a profound and widespread impact on patterns of work," he later wrote on Harvard Business Review's blog. "But American productivity probably isn't affected too much, no more than it is by, say, Thanksgiving." He added that fans and workers can "simply learn to budget their time" when they expect their team to make a significant run.
Still, inflated numbers based on questionable methodology leads some bosses like this one "to police his underlings like a strict school headmaster." Frankly, if you have that little confidence in your employees' capacity to multitask and prioritize, you should probably re-evaluate your hiring process. Additionally, I hate to break it to you, but your office already features the constant presence of a distracting time-suck with the potential to whittle away your employees' productivity. It's called the Internet.
Some employers have actually begun to embrace March Madness as a healthy morale boost for their employees. A survey by OfficeTeam found that 32 percent of employers think the tournament increases employee morale, and 27 percent believe it has a positive impact on productivity, while only 11 percent thought it was a detriment. It's the same idea behind casual Fridays and office happy hours: The happy worker is the productive worker.
By the way, Challenger actually happens to run an office NCAA pool itself, which makes total sense: Every March, it needs to increases its analysts' productivity to tell you just how much yours is going to decline.
This column does not necessarily reflect the opinion of Bloomberg View's editorial board or Bloomberg LP, its owners and investors.
(Kavitha A. Davidson is a Bloomberg View columnist who writes about sports. Follow her on Twitter at @kavithadavidson.)
To contact the author on this story:
Kavitha A Davidson at kdavidson19@bloomberg.net
To contact the editor on this story:
Toby Harshaw at tharshaw@bloomberg.net
Before it's here, it's on the Bloomberg Terminal.
LEARN MORE