Will Brown Bet His Shirt on New Hampshire?
Scott Brown eyes the Senate, from New Hampshire.
by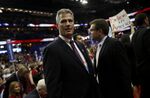 Republicans are feeling so heady about running against Obamacare that they're thrilled that Scott Brown is all but certain to run for a U.S. Senate seat in New Hampshire. Yes, you heard right, the former one-term senator from Massachusetts who lost to newcomer Elizabeth Warren in 2012 announced at a Republican gathering Friday that he has formed an exploratory committee to run against the New Hampshire Democratic incumbent, Jeanne Shaheen .