The First Wives Club Meets in Beijing
The net result will be a stage-managed news void ensuring that the most-covered aspect of the trip will be what the two first ladies wore. 
by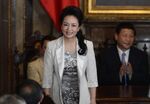 I thought U.S. First Lady Michelle Obama made the right calllast summer when she chose a weekend with her children over a faux-intimate, first-time meeting with her Chinese counterpart, Peng Liyuan. But the inevitable couldn't be avoided forever, and on Thursday the pair will get acquainted here in Beijing.
It is, by design, a fabulously anachronistic affair. Peng will take Obama, her daughters and her mother on tours of a school and the Forbidden City, and then cap the day with a private meal and show (the Obamas will then continue their China tour without her). No reporters will accompany Obama to Beijing, and no interviews will be granted during a visit that the White House insists is non-political, a mere "people-to-people exchange." The Chinese news media, of course, will do as told -- which in this case means taking lots of photos.
The net result will be a stage-managed news void ensuring that the most-covered aspect of the trip will be what the two first ladies wore. It's already started: On Monday the state-owned English language China Daily ran a slideshow headlined: "Fashionable First Ladies: Peng Liyuan vs. Michelle Obama."
This is precisely how the Chinese would like it. Peng, after all, is the first Chinese first lady since Jiang Qing -- Chairman Mao's homicidal wife -- to have a public profile of any kind. Last March she became a national sensation when she appeared arm-in-arm with her husband in Russia. She looked great -- much of the national discussion focused on her clothes -- and since then the Chinese public, and especially the Chinese government and its state media, have been anxious to see her photographed next to Michelle Obama, the gold standard by which global first ladies are measured. To a real extent, then, this visit is little more than the White House's positive response to a long-desired Chinese photo op.
Of course, sometimes that's the nature of diplomacy, and whether we like it or not, the wives of world leaders are occasionally its accessories. But there is something uniquely demeaning in the Obama-Peng meeting, and it largely has to do with the pre-presidential lives of the two formidable women who must attend it. Michelle Obama, after all, is a Harvard-educated lawyer who served as her family's primary breadwinner while her husband toiled in a state legislature. Peng Liyuan, one year older than Obama, is a major general in the People's Liberation Army and a celebrity singer who was famous across China when her husband was working in backwater Communist Party outposts.
If ever there were two first ladies capable of more, it is these two. Family, career choices and circumstances mean that they'll have to stick, instead, to the symbolic roles they have both accepted. Nonetheless, when the two first ladies pose silently for the cameras on Thursday, it might be worth asking whether it's time to retire those roles altogether.
This column does not necessarily reflect the opinion of Bloomberg View's editorial board or Bloomberg LP, its owners and investors.