Obama Shouldn't Forget Our Man in Havana
The dysfunctional U.S. relationship with Cuba is Washington's longest-running tragicomedy.
by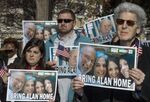 When U.S. President Barack Obama looks abroad, he sees only the possibility of frustration and more frustration. He will not be supervising the return of Crimea to Ukraine. He and the West are unable to end the slaughter of Syria's citizens by its government. There is little chance his administration will forge a final peace deal between Israelis and Palestinians.