Obama Beats Bush
By one measure, the president is outpolling his predecessor.
by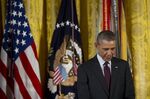 In February, I asked whether Barack Obama's approval ratings had pulled ahead of those of George W. Bush at a similar juncture in his presidency, ending a long period where they were basically tied. We now have evidence they have.
Today, Galluphas Obama at 41 percent approval, which is probably a bit lower than his true Gallup score from the last few weeks. HuffPollster's polling average estimates the president's approval at 43.7 percent and slowly rising. A month ago, the trend was less clear, and results varied depending on whether one looked at regular polls or those that were more sensitive to recent changes. Now the two methods are showing essentially the same thing: Obama bottomed out in November or December and has been improving gradually since.
(Yes, that means the New York Times was wrong to refer to Obama's "sinking approval ratings." I wouldn't quibble with low and stable ratings. But sinking? Not in the last several months).

At a similar point in Bush's second term, in 2006, a March 13-16 Gallup reading gave him a 37 percent approval rating. He remained at that level or below until a late-summer rally, which pushed him above 40 percent for the final time of his presidency. So Obama's lead over Bush, which I estimated at around 3 points last month, is up to around 5 points now, and the two men are headed in opposite directions.

This is not to say Obama is doing well. Unless his recent improvement gathers steam, he's going to be a drag on Democrats in November, though he won't be as big a drag as Bush was for his party in the 2006 midterms. And even if Obama rebounds, it probably wouldn't be enough to help the Democrats hang on to some tough Senate seats. Ronald Reagan was very popular until the 1986 election, when Democrats took a number of Senate races, in large part by unseating Republican incumbents who had benefited from having Reagan at the top of the ticket in 1980.
But at least for now, Obama isn't as unpopular as Bush was in 2006. This suggests a good year for Republicans (especially in the Senate), but not a landslide.

This column does not necessarily reflect the opinion of Bloomberg View's editorial board or Bloomberg LP, its owners and investors.