NFL's Common Sense Goes M.I.A.
How much is your middle finger worth?
by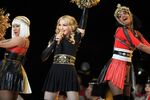 How much is your middle finger worth?
If the NFL is to be believed, it could carry a price tag upward of $16 million -- if it happens to make an appearance during the Super Bowl halftime show. The Hollywood Reporter tells us that the league has now upped its nearly-two-year-old $1.5 million lawsuit against the rapper M.I.A. to $16.6 million in damages for having flipped the bird at halftime of Super Bowl XLVI in 2012.
According to THR, the NFL is seeking an additional $15.1 million in "restitution" for the two-minute performance based on what advertisers would have paid for that amount of time. The original lawsuit accused M.I.A. of breach of contract and violating the "wholesomeness enjoyed by the NFL" -- a point with which the artist took particular issue. In addition to noting the inherent violence in football, the ongoing concussion scandal, the locker-room bullying and the numerous arrests of players (and even an owner) for such non-family-friendly offenses as drugs, weapons possession and domestic violence, M.I.A.'s lawyer points to past halftime performances that didn't warrant a similar multimillion-dollar lawsuit by the NFL. Among these are Michael Jackson's crotch-grabbing in 1993, Prince's phallic silhouette in 2007, and Madonna's "lewdly-thrusting" backup dancers in 2012 (when M.I.A. was featured as a guest performer).
Even the most notorious instance of the Super Bowl halftime show offending the delicate sensibilities of the American viewing public -- Janet Jackson's so-called wardrobe malfunction in 2004 -- didn't lead to a lawsuit by the NFL. (The FCC eventually lost its legal battle in attempting to levy a $550,000 fine against Super Bowl broadcaster CBS.) For perspective, the FCC received more than half a million complaints for the Jackson incident, andjust 222 about M.I.A.'s middle finger.
Clearly, the NFL is singling out M.I.A. - though for what purpose is anybody's guess. Sixteen million dollars is small potatoes to the $9 billion league, which had previously stated that any settlement would be donated to charity. You'd think the hugely image-conscious NFL would realize that rather than "protecting the shield" -- Goodell's prhase in reference to the NFL logo -- this entire affair just makes the league look petty and miserly while giving the outspoken rapper more fuel for her public battle against the lawsuit. M.I.A. hasn't missed a step in using the media to bring attention to her fight, posting a photo of the NFL's latest demands on her Twitter account this week.
One also has to wonder what the NFL expected from its halftime performers in 2012. If it was truly concerned about offending, maybe the best choice wasn't a rapper who's never shied away from cursing or controversy. Or Madonna, a past-her-prime singer whose "shocking" on-stage makeout session with two other female pop stars helped fuel her comeback. And, oh by the way, Nicki Minaj was there, too.
The NFL needs to pick a lane when it comes to the kind of Super Bowl halftime show. If it wants to please traditional fans and avoid offending anyone, it should just book Bruce Springsteen until the Boss can no longer walk, which I'm guessing won't be until at least 2040. If the NFL wants to appeal to its younger fans with edgier, critically acclaimed acts such as M.I.A. and the Red Hot Chili Peppers -- a welcome reprieve this year from the cloyingly saccharine Bruno Mars -- it can't be surprised if things don't always go as planned. Those who were offended that M.I.A. did something provocative are like those who were shocked by Anthony Kiedis' nipples: not paying attention.
This column does not necessarily reflect the opinion of Bloomberg View's editorial board or Bloomberg LP, its owners and investors.
(Kavitha A. Davidson is a Bloomberg View columnist who writes about sports. Follow her on Twitter at @kavithadavidson.)
To contact the author on this story:
Kavitha A Davidson at kdavidson19@bloomberg.net
To contact the editor on this story:
Toby Harshaw at tharshaw@bloomberg.net
Before it's here, it's on the Bloomberg Terminal.
LEARN MORE