Can You See Beijing From the Eiffel Tower?
China's experience with driving bans (and copied by Paris) shows they are ineffective and possibly counter-productive as drivers figure out ways to circumvent them over the long term.
by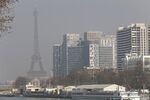 Last week, as Parisians were choked by the city's worst, Eiffel Tower-obscuring smog since 1997, they were left to ask the same, depressing question: How does this compare with Beijing?