What Does the West Want From Ukraine?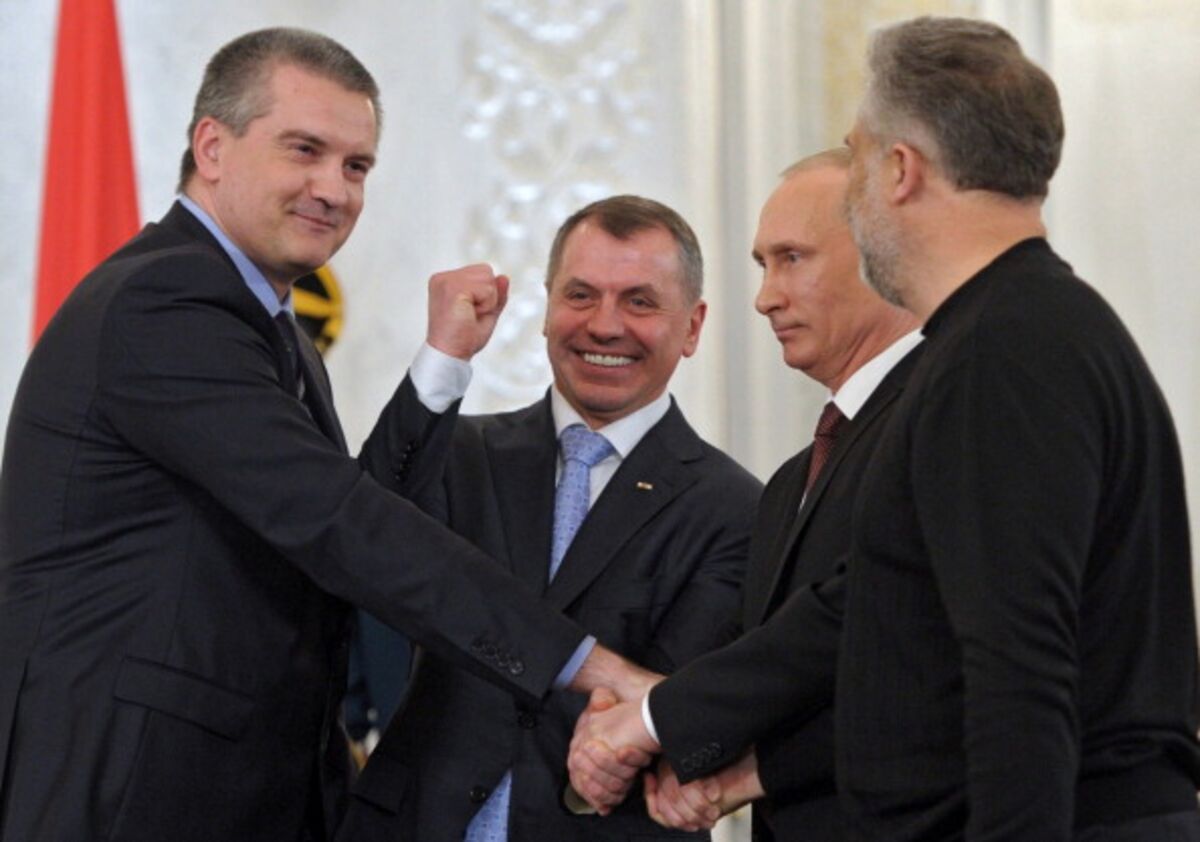 The West can't give Vladimir Putin any more reasons to celebrate. Photographer: Alexey Druzhinin/AFP/Getty Images
Now that Russian President Vladimir Putin has announced his country's annexation of Crimea, how should the European Union and the U.S. respond? With tougher sanctions, certainly, and with plans to lessen the West's economic dependence on Russia -- but also with clearer thinking about Ukraine's future than has been demonstrated up to now.

The sanctions announced so far are too puny. Travel bans and asset freezes can hurt, but only if they are aimed at a sufficient number of sufficiently influential Russians. So their scope needs to be widened -- and, above all, extended to Putin's inner circle. The purpose, to be clear, isn't to get Crimea back. Realistically, it's too late for that. The aim is to show that Russia cannot flout international law with impunity, and to make Putin think twice before going any further.

This message should be reinforced with a promise to again scale up sanctions if Russia moves against other parts of Ukraine. President Barack Obama has invited leaders of the other Group of Seven nations (Canada, France, Germany, Italy, Japan and the U.K.) and the EU to meet next week. As well as coordinating further economic measures, if required, that meeting should announce the indefinite suspension of the Group of Eight -- the G-7 plus Russia.
It isn't too soon, either, for that meeting to address ways to lessen the West's dependence on Russian energy, which has given Putin too much leverage over parts of Europe. The aim, if Putin stops at Crimea, shouldn't be long-run isolation of Russia's economy: Rather, it's a simple matter of prudence to avoid depending too much on Russia's goodwill.
Once the West has registered dismay at Russia's illegal conduct and begun to diversify its energy supplies more intelligently, what else? Here's where the clearer thinking is badly needed.
The U.S. and EU aren't going to fight to defend what remains of Ukraine. They aren't bound by treaty to do so, and their interests (not to mention their electorates) argue against it. The sad but inescapable fact is that Russia has far more at stake in Ukraine than the U.S. and the EU do. Putin understands this, even if Western leaders would rather draw a veil over it. Crucially, Ukraine should not be encouraged to think otherwise, so that it counts on military support that won't be forthcoming. Ukraine's own interests are best served by a settlement that lets it flourish in peace. That means two things: close ties to the West, but also tolerable if chilly relations with Russia.
The U.S. and EU can do more to help Ukraine to help itself, beginning with providing the assistance it needs to stabilize its economy. (U.S. aid to Ukraine has been held up by an unrelated partisan dispute in Congress.) And they should do what they can to foster political reform that moves Ukraine closer to being a well-functioning democracy -- which it assuredly isn't. But discussion of Ukraine's eventual accession to the EU or North Atlantic Treaty Organization would not, at this point, be in Ukraine's best interests.
Closer ties are desirable and achievable, but not if they cast Ukraine as a long-term Russian adversary. The U.S. and Europe shouldn't put Ukraine in that position until they are willing to fight to defend it.
--Editors: James Gibney, Clive Crook.

For Related News and Information:
For more Bloomberg View: {VIEW}

To contact the editor on this story:
David Shipley at davidshipley@bloomberg.net