Editorial Board
What Does the West Want From Ukraine?
The sanctions against Russia should be made tougher. The U.S. and EU also need to think more clearly about Ukraine's future.
by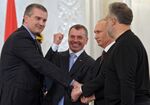 Now that Russian President Vladimir Putin has announced his country's annexation of Crimea, how should the European Union and the U.S. respond? With tougher sanctions, certainly, and with plans to lessen the West's economic dependence on Russia -- but also with clearer thinking about Ukraine's future than has been demonstrated up to now.