The CIA and Senate Just Can't Get Along
The rocky relationship between the CIA and the Senate.
by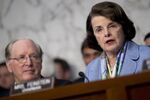 The criticism last week of the Central Intelligence Agency by Senate Intelligence Committee Chairman Dianne Feinstein was described as extraordinary and unprecedented.

Her words, though, were tame compared to those of two former senators, Barry Goldwater and Frank Church.
In 1984, Goldwater, who headed the Intelligence Committee, sent a letter to CIA Director Bill Casey that skipped the subtlety: "I am pissed off," the Arizona Republican wrote. The CIA had illegally placed mines in Nicaraguan harbors and not told Goldwater and the Senate committee about it. In the letter, Goldwater's fury extended to his friend, President Ronald Reagan. Goldwater asked Casey, "How can we back his foreign policy when we don't know what the hell he is doing?"
Almost a decade earlier, Church was the head of a select bipartisan committee that revealed a myriad of illegal CIA activities, including the attempted assassinations of foreign leaders.
In both cases, stories in the press were the catalyst for the political barbs. The Church Committee was appointed after a 1974 report in the New York Times by Seymour Hersh detailed illicit activities of the CIA, operations referred to as "the family jewels."
In 1984, a Wall Street Journal reporter, David Rogers, was covering an all-night session in the Senate when Goldwater inexplicably exploded on the chamber floor. Rogers broke the story of the mining operation.
Tensions arise when an intelligence agency is given broad latitude but still held accountable to a Senate oversight panel. The CIA will always claim that revelations will impair its operations and compromise national security. Then pretty soon it will be back to business as usual.
History is likely to repeat itself: The committee eventually will release a report describing the use of what were probably illegal torture and detention methods during the administration of President George W. Bush. It will include the CIA's rebuttal and the documents assembled under former director Leon Panetta that formed the basis of these analyses.
Feinstein has been a long time champion of the CIA.
This column does not necessarily reflect the opinion of Bloomberg View's editorial board or Bloomberg LP, its owners and investors.