Republicans Don't Replace Obamacare, Again
Plan turns into an airing of proposals at town hall meetings.
by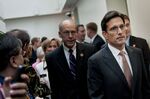 Only yesterday, Robert Costa reportedthat Republicans were almost ready to roll out a proposal to "replace" the Affordable Care Act. By doing so, they would make good on their pledge to "repeal and replace" Obamacare, and fulfill House Majority Leader Eric Cantor's promise to have a vote on their health-care reform bill this year.
The New York Times reported today that Republicans now plan to use town hall meetings in April to present alternatives that could be part of a Republican health care bill . Then ... well, there's no timeline beyond that. It may not be impossible to write a bill, get it through committee, and bring it to the House floor before Congress is finished for the year. But, c'mon, who are we kidding?
Yesterday, according to Costa, the town halls were pitched as venues for publicizing a Republican plan. Today, they are billed as test-sites for a bunch of different ideas that may or may not be included in a possible proposal.
If the party had an actual plan, it wouldn't need to be testing ideas. In addition, the Republicans don't seem to have any intention of discussing the trade-offs that would be required for a viable policy proposal.
Jonathan Chait still has the best take on this: "The Republican Health-Care Plan Is Almost Here, and Always Will Be." At this point, it's best to treat every announcement of imminent action with skepticism, or even ridicule. So kudos to Jonathan Weisman of the Times for including some of this sordid history. Now let's sit back and wait for the next great rollout of the Republican bill. And the next one. And the one after that.

This column does not necessarily reflect the opinion of Bloomberg View's editorial board or Bloomberg LP, its owners and investors.