Can Republicans Kill Obamacare If They Win the Senate?
Control of Congress is not the same as control of health care policy.
by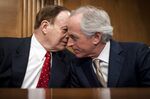 If Republicans take control of the Senate next year, which seems highly plausible right now, they will surely intensify their war on Obamacare. Last week Bloomberg Government issued an analysis (subscription required) on the prospects for the law in 2015, including how the administration might respond to attacks from a Congress under full Republican control.