Camp's Tax Reform Meets Certain Death
Did Republican plan even have a chance -- with Republicans?
by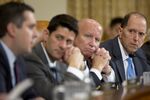 The apparent demise of the tax-reform plan proposed by House Ways and Means Committee Chairman Dave Camp is both unsurprising and a disappointment. It is disappointing not because it necessarily would have been terrific policy (generally, I'm skeptical about the gains from tax reform), but because it was a rare attempt by the Republican House to do any policy at all.
The lack of momentum is no surprise because changing the tax code is hard. Revenue-neutral tax reform -- in which lower rates are exchanged for the elimination of special treatment of certain types of income and activities -- produces lots of very small winners and a few big losers. That's a recipe for failure because the design of the U.S. system tends to favor engaged minorities over indifferent majorities.
I partly disagree, then, with Jonathan Chait's theory that tax reform died as an inevitable result of Republican efforts to make rich people pay less in taxes. That's overdetermined! There are so many other good reasons for tax reform to fail, for example, the Tea Party's "principled" hostility to compromise, and the Republicans' belief that focusing on the Affordable Care Act will bring electoral rewards.
So why, as both Chait and Kevin Drum asked, did Camp even try? In theory, putting tax reform on the table is a good way to generate lots of campaign donations because any group, industry or person that might be affected will rally to protect its interests. But Camp's proposals meant he was aligning himself against many sources of money.

There's another possibility: Camp did it because he is chairman of the Ways and Means Committee, and the chairmen of powerful committees are supposed to legislate on important topics.

And unlikely as tax reform was, it still had a better chance of becoming law than, say, an effort to replace Obamacare, or radical changes to Medicare or Social Security, or even a broad-based tax cut. This is especially true because term-limit rules require Camp to step down as chairman in 2015, and he will be long gone before there's even the faintest chance of Republican unified government that can enact laws reflecting the party's priorities.

That's a guess, but it's also a good reminder that term limits for committee chairmen are a bad idea.

This column does not necessarily reflect the opinion of Bloomberg View's editorial board or Bloomberg LP, its owners and investors.