Editorial Board
Alibaba's IPO Is Nothing to Celebrate
Hong Kong Stock Exchange, which lost out on the IPO of Alibaba Group Holding Ltd., should be proud of its refusal to bend the rules -- and resist the pressure to do so now.
by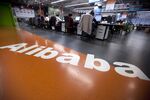 Much as it may be tempted to brag about winning what could be the richest initial stock offering by a Chinese company, Wall Street should be embarrassed. And the Hong Kong Stock Exchange, which lost out on the IPO of Alibaba Group Holding Ltd., should be proud of its refusal to bend the rules -- and resist the pressure to do so now.
The Hong Kong exchange's one-shareholder, one-vote requirement irked Alibaba's founders, who want to maintain control of the board even after accepting shareholders' money. So China's largest e-commerce company is bringing its IPO to the U.S., where dual classes of stock are allowed.
Dual classes give some shareholders more voting rights per share than others. They were frowned upon in the U.S. in the 1980s and '90s. In recent years, though, dual classes have become all the rage, especially among technology companies. Google Inc., LinkedIn Corp., Groupon Inc., Zynga Inc. and Facebook Inc. all have two or more share classes.
Executives at companies with dual classes argue that the structure allows them to focus more on long-term performance than short-term returns. Technology companies especially want such a protective shield in the early years of public trading, when ideas are more plentiful than profits. It has also worked well elsewhere, such as at Berkshire Hathaway Inc.
For most companies, however, unequal voting rights simply allow bad managers to avoid accountability. It makes intuitive sense, but the evidence is more than anecdotal: There are several recent studies backing up the claim.
Both the New York Stock Exchange and Nasdaq, like most European bourses and the London Stock Exchange, allow companies to have unequal voting rights (although the U.K. strongly discourages them). Aside from Hong Kong, among the major exchanges only Singapore outright prohibits dual-class shares -- and, like Hong Kong, it's considering relaxing that rule. If two of Asia's largest exchanges loosen their rules, they will only be joining the race to the bottom.
Hong Kong regulators undoubtedly felt a need to demonstrate adherence to the rule of law. If the island, which is part of China but has its own legal system, wants to attract investors, it needs to show that it isn't at the Chinese government's beck and call. But now that it has missed out on Alibaba and a slew of other Chinese technology-company IPOs, the exchange is suggesting it may seek to lower its listing standards.
As long as stock exchanges allow dual shareholder classes, Google, Facebook and other Internet titans will probably never adopt a one-share, one-vote system. Alibaba, which could raise more than the $16 billion Facebook amassed in its 2012 IPO, will keep this unfortunate trend of second-class ownership going.
Stock exchanges, however, should be concerned about reputational loss if lax corporate governance invites another round of accounting scandals or entrenches bad management. There's also the small matter of defining who and what public companies exist to serve. By all means, exchanges should give fledgling companies the time they need to mature -- by limiting dual classes to the first five years of public ownership, say, or capping the percentage of nonvoting stock. But they should also give the companies' owners their due.