Editorial Board
The NRA Versus Public Health
Why are the National Rifle Association and its allies in the extreme gun-rights movement so panicked about Murthy?
by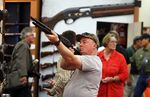 Vivek Murthy is a well-regarded physician and instructor at Harvard Medical School. Like the president he hopes to serve as surgeon general, he supports greater regulation of firearms. That said, the surgeon general has no role in regulating guns, a task that falls to the perennially underfunded and legislatively hobbled Bureau of Alcohol, Tobacco, Firearms and Explosives.

So why are the National Rifle Association and its allies in the extreme gun-rights movement so panicked about Murthy? "The surgeon general has the important tasks of providing the American public with information to better inform decisions related to their health and directing much of the federal government's public health efforts," said the NRA's lobbying arm on its website.
QuickTake Americans and Their Guns
The crucial words are "information" and "public health." The extreme gun-rights movement makes expansive claims about the benefits of gun ownership. Few of those claims pass even the crudest standards of scholarship. Indeed, many such claims are already bending under the weight of public health research indicating, for example, that gun ownership may be more likely to lead to instances of suicide or homicide than self-defense.
Better research is needed on the relationship between guns and public health. The NRA, however, simply cannot abide more research. What if professional, peer-reviewed science exposes many of the gun groups' claims as nonsense?
Of course, the business of fear mongering can advance even as ignorance recedes. But over the past two decades the NRA has made it abundantly clear that it views quality research as a threat to its agenda.
The politics of guns is often a stage for cowardice. Informed, data-driven discussion of public health has the potential to undermine attempts to spread fear. That's why the NRA wants that discussion -- and President Barack Obama's surgeon general nominee -- muzzled before it gets any further.
From the standpoint of the gun lobby, opposition to Murthy may seem necessary and even rational. From the standpoint of the public good, however, it is counterproductive and even corrupt.

To contact the senior editor responsible for Bloomberg View's editorials: David Shipley at davidshipley@bloomberg.net.