The Coming Real Estate Bubble
Residential real estate in Washington is looking awfully bubblicious.
by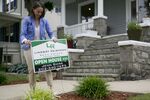 Three and a half years ago, my newly married household acquired an actual house, a 1,750-square-foot slice of paradise in Washington's Eckington neighborhood. In real estate euphemism, the house is what's known as "lightly renovated," the neighborhood "transitional." "Lightly renovated" meant that some stuff had been done, most of it badly, but the HVAC dated from the Paleozoic, and the yard . . . um, better not to speak of the yard, unless you're a Hollywood location scout looking for somewhere for your heroin-addict protagonist to bottom out.