Republicans Need to Rewrite Their Obamacare Script
News from the health-care front.
by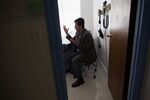 There's plenty of news and almost-news about the Affordable Care Act. Here it is, with the big picture at the end:
The takeaway is that despite its fits and starts, the ACA is the law of the land. Meanwhile, most Republicans are still stuck in fall 2009 or at best fall 2010, and appear to reject new information about what the law actually is doing. That doesn't matter for electoral politics, most likely. But it does make Republicans ill-equipped to govern on this issue -- at least, if governing entails more than symbolic gestures.

This column does not necessarily reflect the opinion of Bloomberg View's editorial board or Bloomberg LP, its owners and investors.
(Jonathan Bernstein covers U.S. politics for Bloomberg View. He is co-editor of "The Making of the Presidential Candidates 2012." Follow him onTwitter at @JBPlainblog.)
To contact the author on this story:
Jonathan Bernstein at jbernstein62@bloomberg.net
To contact the editor on this story:
Max Berley at mberley@bloomberg.net
Before it's here, it's on the Bloomberg Terminal.
LEARN MORE