Obama's Sanctions Will Make Putin Laugh
U.S. sanctions against seven Russian officials do not punish the people responsible for Crimea's annexation or inflict any pain on Vladimir Putin.
by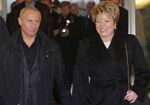 In response to Crimea's farcical secession referendum, the European Union and the U.S. are imposing personal sanctions against Russian officials. All they will do to Russian President Vladimir Putin is tickle him pink.