Is This the Best the Economy Can Do?
The data suggests the U.S. economy may not have that much excess capacity after all. The question is why.
by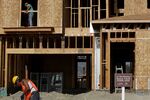 The belief that U.S. economic output is less than it could be -- an idea that's driven post-recession policy at the Federal Reserve -- is increasingly challenged by the data, as I described in my last post. That suggests a drop in the country's productive capacity, which leads to an even more vexing question: What's behind that drop? And how should the Fed respond?