Herbalife Realizes Some Questions Need Answering
Why would a company in the fight of its life, such as Herbalife, needlessly go out of its way to look like it might have something to hide?
by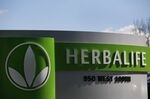 Why would a company in the fight of its life needlessly go out of its way to look like it might have something to hide?
That's what I don't get about Herbalife Ltd., the nutritional-supplements distributor targeted by hedge-fund billionaire William Ackman, after its disclosure last week of an investigation by the U.S. Federal Trade Commission. Ackman, who says Herbalife is a pyramid scheme, has been betting against the stock and campaigning for a government inquiry of the company for more than a year. Yet when Herbalife disclosed the FTC probe, the company left the impression that it might have been playing cute with the facts -- which, it turns out, was completely unnecessary and played right into Ackman's hands.
On March 12, Herbalife issued a news release in which it said it "received today a civil investigative demand from the Federal Trade Commission." The release went on:
"Herbalife welcomes the inquiry given the tremendous amount of misinformation in the marketplace, and will cooperate fully with the FTC. We are confident that Herbalife is in compliance with all applicable laws and regulations. Herbalife is a financially strong and successful company, having created meaningful value for shareholders, significant opportunities for distributors and positively impacted the lives and health of its consumers for over 34 years. Herbalife does not intend to make any additional comments regarding this matter unless and until there are material developments."
That left some obvious questions that Herbalife could have answered upfront, instead of leaving investors hanging. For instance, when did Herbalife first learn about the FTC's investigation? And why didn't Herbalife disclose it sooner? Recall that in 2010, the Securities and Exchange Commission sued Goldman Sachs Group Inc. for fraud, prompting investors to complain that Goldman sandbagged them because the company hadn't previously disclosed the SEC's investigation.
As the FTC explains on its website, sometimes the agency sends out subpoenas as part of its investigations. Sometimes it sends out so-called civil investigative demands. (There is a difference, but the details aren't worth going into here.) The FTC also can send out more than one civil investigative demand or subpoena during the course of a probe. So when a company discloses that it got one of these things, this doesn't necessarily mean the investigation is new.
Herbalife's language struck me as overly clever, in part, because the Financial Times learned of the FTC's investigation before Herbalife disclosed the news. A March 12 article noted that "the company put out a statement confirming the civil investigation following an inquiry by the Financial Times." For all I knew, Herbalife might not have disclosed the matter had it not been for the FT's request for comment.
So what does Herbalife say now? Getting answers out of the company was like pulling teeth. But I ended up getting some after a couple of days of trying. At first a company spokeswoman, Barbara Henderson, declined to answer questions. After I pressed her, she asked if I would be willing to have a "background conversation" with Herbalife's chief financial officer, John DeSimone. I declined and told her I wanted to keep everything on the record. Then I finally got some answers.
Yes, this was the first civil investigative demand Herbalife had received from the FTC, she said in an e-mail. So when did Herbalife first learn the FTC had begun an inquiry?
"We were first informed of the existence of an FTC investigation at the same time we were notified to expect receipt of the CID the following day," Henderson said. "Herbalife disclosed the CID immediately upon receipt Wednesday morning. The company notified the NYSE and trading of the company's stock was halted within approximately 15 minutes. Shortly thereafter, the company issued a press release, announcing that it had received a CID from the FTC and planned to fully cooperate with the FTC. As a publicly reporting company, we believe the responsible path is to confirm information before publicly disclosing it -- that is why we waited to disclose the CID until we had it in hand.
This column does not necessarily reflect the opinion of Bloomberg View's editorial board or Bloomberg LP, its owners and investors.