Geraldine Ferraro's Loss Was Women's Gain
Although they still are underrepresented, political women have gone from anomalies to mainstream.
by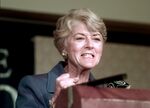 On Friday, the Showtime cable-television channel will air "Geraldine Ferraro: Paving the Way," a documentary about her 1984 race for vice president. Although she was defeated, it was a seminal moment in politics that was validated by the subsequent extraordinary leap in the number of female officeholders.