What Mattered This Week?
by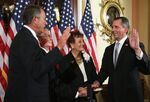 What's easy is the thing that didn't matter: the flap over presidential dignity. It was interesting, to be sure, but we'll all forget it in a week.
All House elections matter, and House elections for closely contested seats matter even more. So I'll put the Republican win in Florida's 13th House district down as a thing that mattered. Even if it really, really, really doesn't tell us anything at all about what's going to happen in November.
That's what I noticed. What do you have? What do you think mattered this week?
This column does not necessarily reflect the opinion of Bloomberg View's editorial board or Bloomberg LP, its owners and investors.