Ukraine 'Tripwire' Could Blow Up in NATO's Face
When it comes to Ukraine, the U.S. should avoid military tripwires and "red lines" it is not absolutely willing to enforce. 
by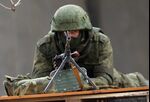 In response to Moscow's slow-motion annexation of Crimea, some have called for the U.S. and the North Atlantic Treaty Organization to place trainers and advisers in Ukraine to act as a "tripwire" against further Russian incursions. The idea is that the risk of setting off a conflict with the West would tame Russian President Vladimir Putin's expansionism. "That is something the most rabid Soviet expansionist never risked," writes the Washington Post's Charles Krauthammer. "Nor would Putin."